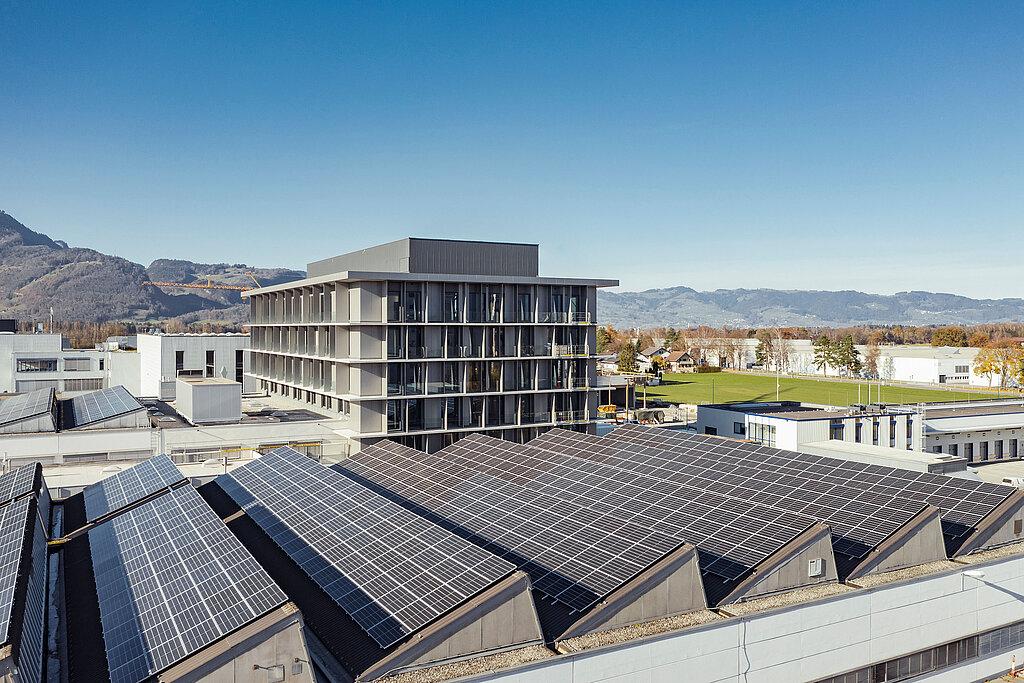 Taking the Lead
Hirschmann Automotive is confidently taking the road towards CO₂ neutrality by 2050 with a multifaceted approach.
Our CO₂ roadmap is part of the Ecology dimension of our sustainability strategy, rooted in the Agenda 2030. The three development areas Ecology, Economy, and Social Affairs are also highlighted.
Today, we want to share some insights from the Ecological perspective. Therefore, we highlight our global efforts to track and reduce carbon emissions. The challenge for this (E)mission is accepted!
Corporate Carbon Footprint in the Spotlight
The Corporate Carbon Footprint (CCF) describes the total amount of Greenhouse Gas Emissions (GHG) generated by a company's activities, considering direct and indirect emissions. Greenhouse Gas Emissions are gases in the earth's atmosphere that trap heat, accelerating global warming and causing the so-called greenhouse effect. The Greenhouse Gas Protocol provides international standards for the calculation of the CCF.
The CCF is subdivided into three scopes with different emission types:
Scope 1: Includes all direct GHG emissions that stem from a company's own business activities, such as natural gas, heating oil, gasoline, diesel, and coal.

Scope 2: Includes all indirect GHG emissions that result from the generation of a company's purchased energy, including purchased electricity, district heating, steam, and cooling for own use.

Scope 3: Includes all other indirect upstream and downstream GHG emissions, for example, from business travel and purchased materials.

Upstream Emissions: Emissions result from upstream activities, such as purchased goods and services, transportation and distribution, travel, and employee commuting.

Downstream Emissions: Emissions result from using Hirschmann Automotive's products, such as the use of sold products, transportation and distribution, and end-of-life.
With the calculation for scope 1, 2, and 3, we are pursuing a transparent and target-oriented accounting of the GHG emissions for the entire Hirschmann Automotive Group.
Our Corporate Carbon Footprint: Status Quo & Targets
Since 2019, Hirschmann Automotive has already tracked the CO₂ emissions for scope 1 and 2. We are tackling the first categories of scope 3 for the upcoming Sustainability reporting. We have defined reduction targets for all three scopes to achieve carbon neutrality by 2050 for the entire Hirschmann Automotive Group.
1. Achieve CO₂ Neutrality across Scope 1 and Scope 2 by 2030
2. Achieve CO₂ Neutrality across Scope 1,2 and 3 by 2050
The Road(map) to Success?
Reducing CO₂ emissions requires a multi-faceted approach involving collaboration, innovation, and adopting sustainable practices. Compared to 2021, our global CO₂ emissions of scope 1 and 2 of the reporting year 2022 decreased by 18%.
How did we achieve this reduction?
One of the key sustainable practices we implemented was the persistent transition to green energy and installing solar panels. Since the end of 2022, 100% of the energy consumed in Rankweil, Freyung, Vsetín, and Târgu Mureș has come from green energy sources.
Furthermore, we invested in projects to use energy more efficiently. Therefore, we installed a new lighting system. The change to LED lighting contributed to a decrease in our CO₂ footprint.