HPS40-2
In cooperation with well-known OEMs, Hirschmann Automotive developed a future-oriented system:
the HIRSCHMANN AUTOMOTIVE PowerStar high-voltage connectors. The innovative solutions fulfill highest quality requirements and comply with global automotive standards.
The HIRSCHMANN AUTOMOTIVE PowerStar 40-1 and the new generation HIRSCHMANN AUTOMOTIVE PowerStar 40-2 are particularly impressive due to their optimized design and low weight. The connectors are watertight and fully efficient even at high temperatures – thus ensuring safe operation even under harsh environmental conditions. The systems are easy to assemble, have an integrated interlock and a circumferential shield transition for secure connection and disconnection.

Order Sample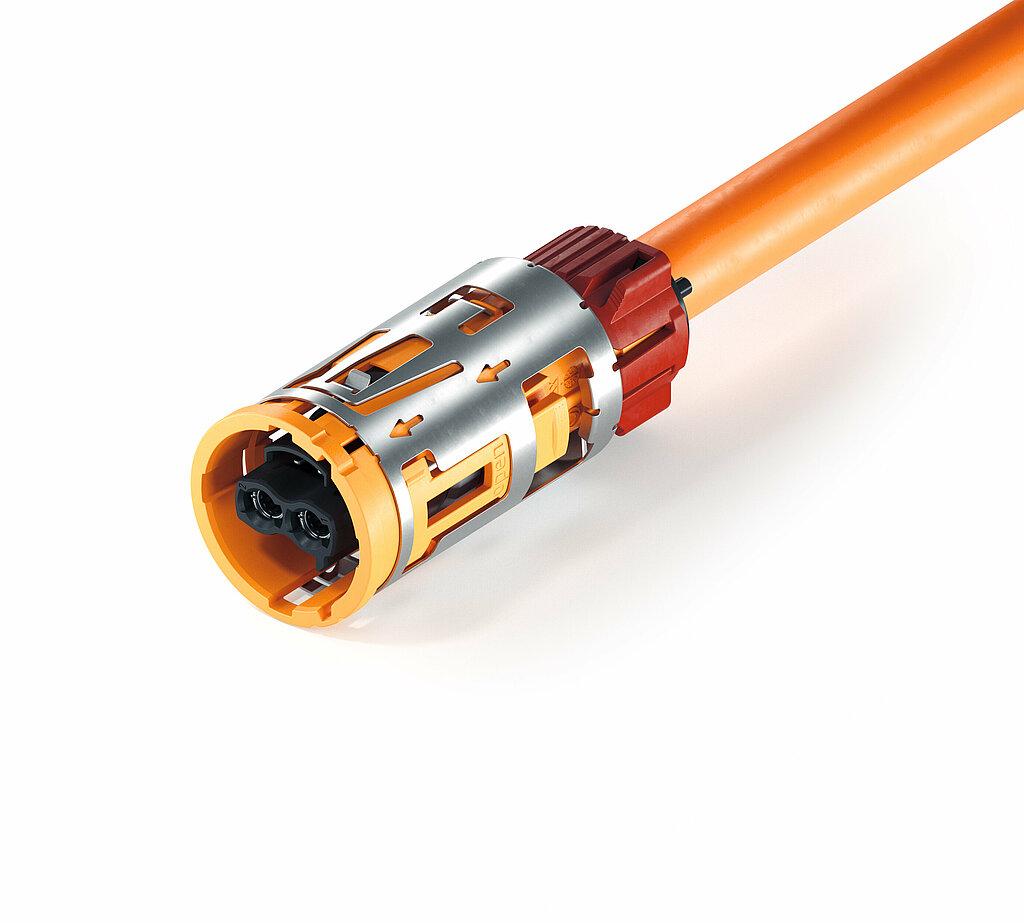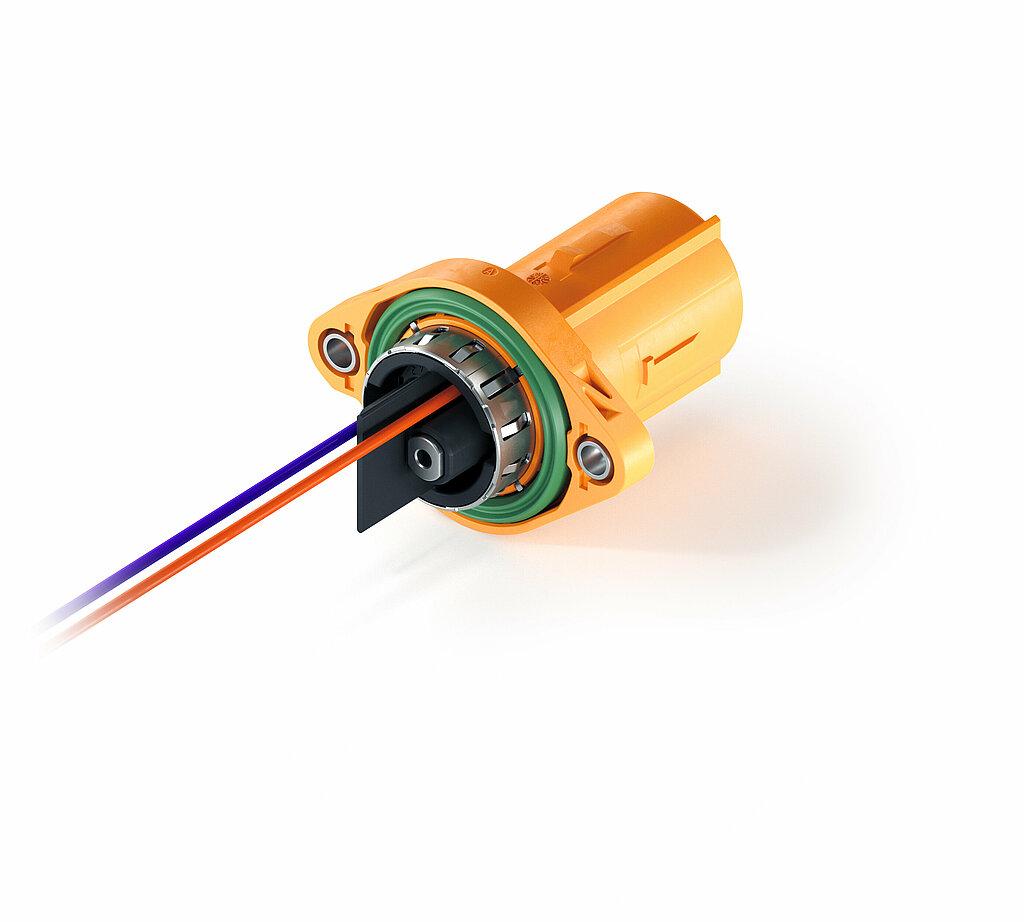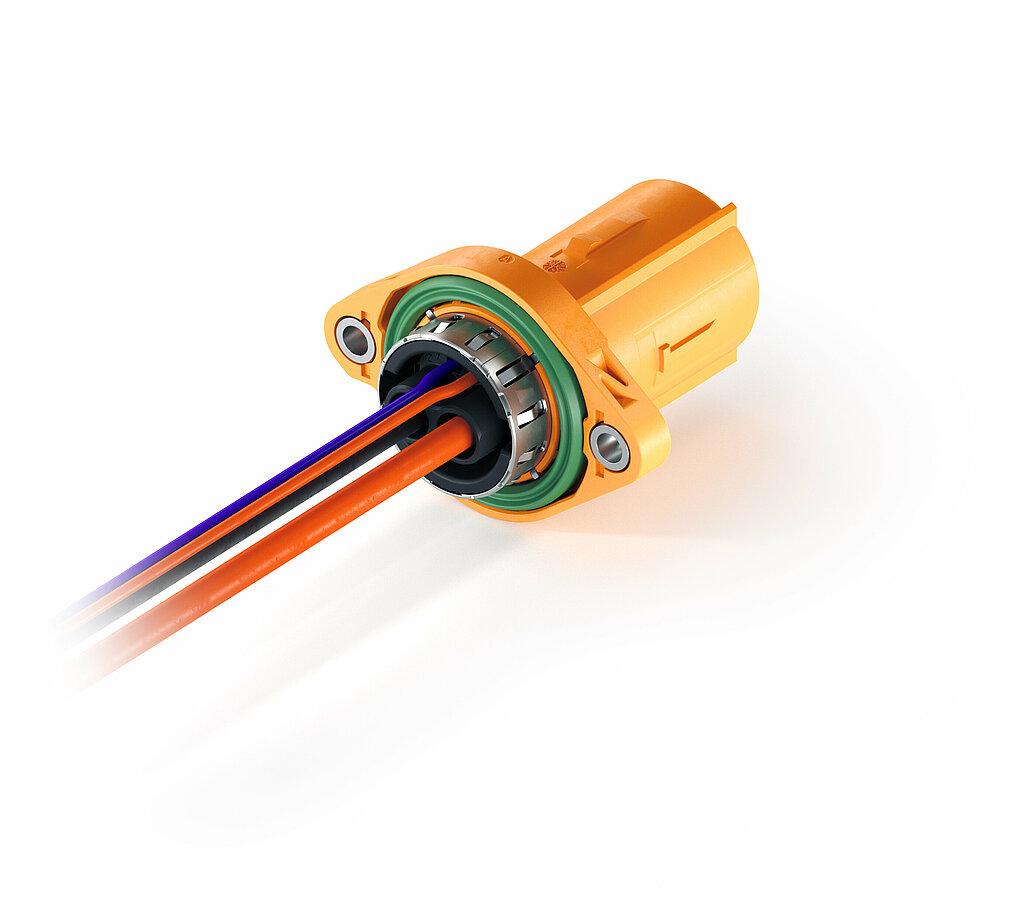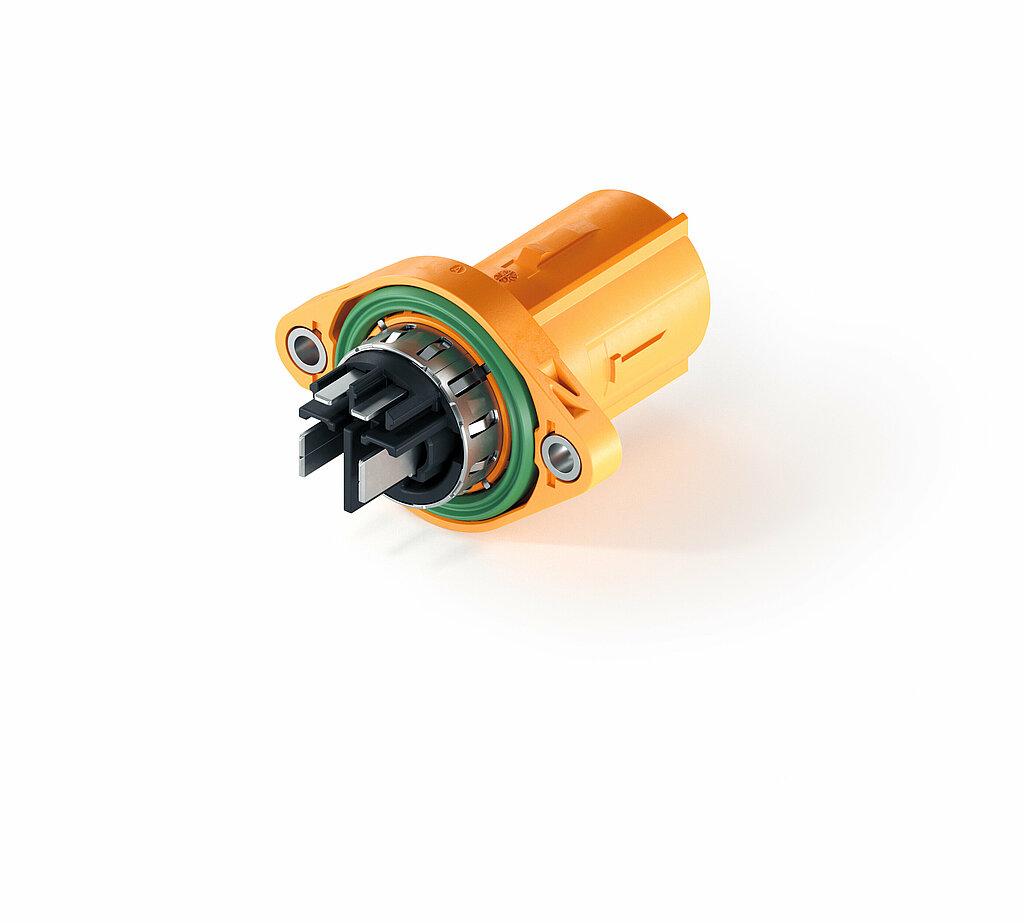 Elisa-Maria Jussel is your Contact for Individual Questions
Technical Sales
compliant with automotive test specification LV 214 & USCAR*
watertight according to IP6K9K
easy assembling
integrated interlock
360° shielded connection
low shield contact resistance
high current load at high ambient temperatures
robust design
The HCT4 contact system is an in-house development by Hirschmann Automotive. Device connections can be implemented in different variants on request. Multiple connections with optimized installation space are also possible.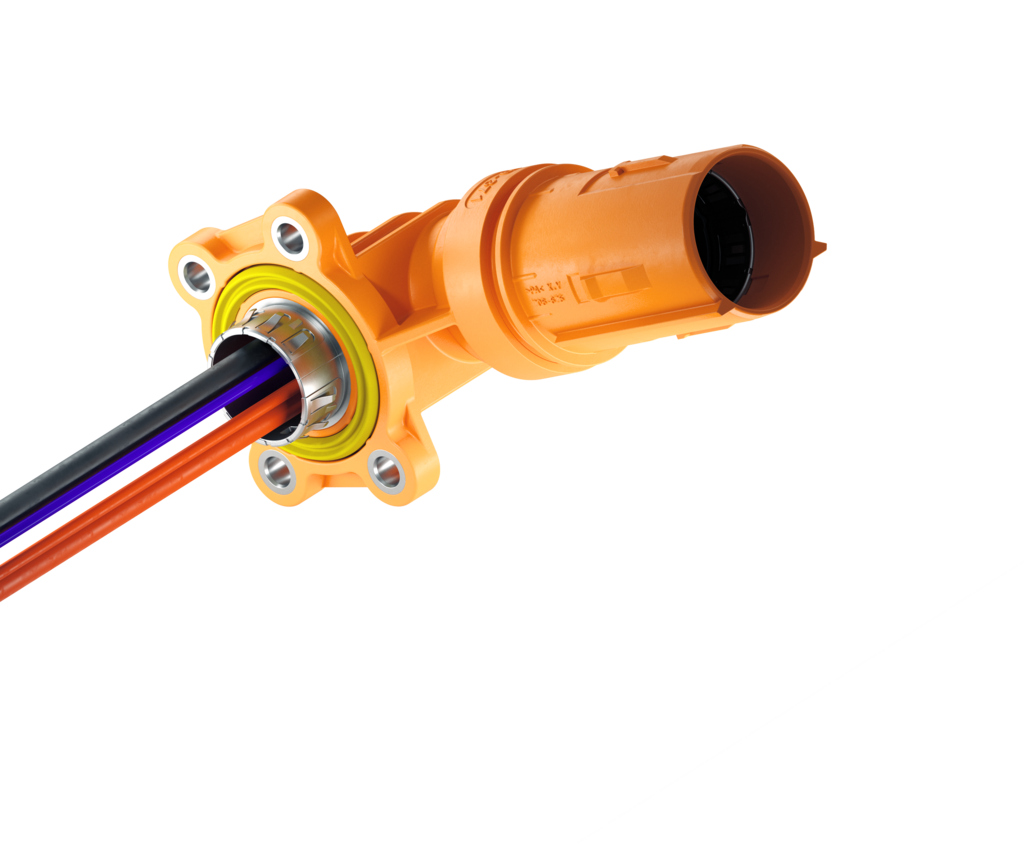 *Please contact Product Manager.
PARAMETERS
HPS40-2 (2+2 way)
Current Class
current class 1 and 2 connector
Applications
auxiliary units
Number of Pins
2 (high voltage) + 2 (HVIL optional)
Operating Condition
U = 1,000 VDC
Voltage Class

Class B according to ISO 6469-3:2011

60 VDC < U ≤ 1,000 VDC

25 VAC < Ueff ≤ 707 VDC (15-150 Hz)

Ambient Condition
-40° C to +140° C
Maximum Altitude
4,000 m
Maximum Current Load
64A at 80° C (6,00 mm2), see deratings product specification
IP-Degree of Protection
IPXXD (unmated), IPXXB (mated)
Watertightness
IP6K9K, IPX8

EMC Performance (6.00 mm2)

until 30 MHz < 1 mΩ/m

> 75 dB (10 kHz to 500 MHz)

> 65 dB (500 MHz to 1,000 MHz)

Shielded Area
360° circumferential
Shield Contact Resistance
< 2 mΩ (total from sheathed cable until aggregate housing)
Vibration Strength 2
according to LV214/215 - PG17 (without fixation point)
Vibration Strength 3
according to LV214/215 - PG17 (first fixation point at < 200 mm)
Vibration Strength 4
according to LV214/215 - PG17 (first fixation point at < 200 mm)
Mating/Unmating Force
< 65 N
Secundary Lock System
activating force < 40 N, no accidental opening possible
Koshiri Safety
yes
Polarization/Coding
incorrect insertion force < 200 N
CPA System
operating force < 30 N
HVIL System
min. 1.0 mm (nominal 2.0 mm), leading
CONTACT SYSTEM INFORMATION
Contact System
HCT4 (4.0 mm round terminal), Ag, crimped
Material/Surface
Cu-Leg., CuNiSi,Ag
Connector
crimped
Mating Cycles
max. 50 cycles
CUSTOMER-SPECIFIC INFORMATION
Cable Cross Section
2.5 mm2; 4.0 mm2; 6.0 mm2 as MCC and SCC solutions
Contact Carrier Codings
A, B, C, D, Z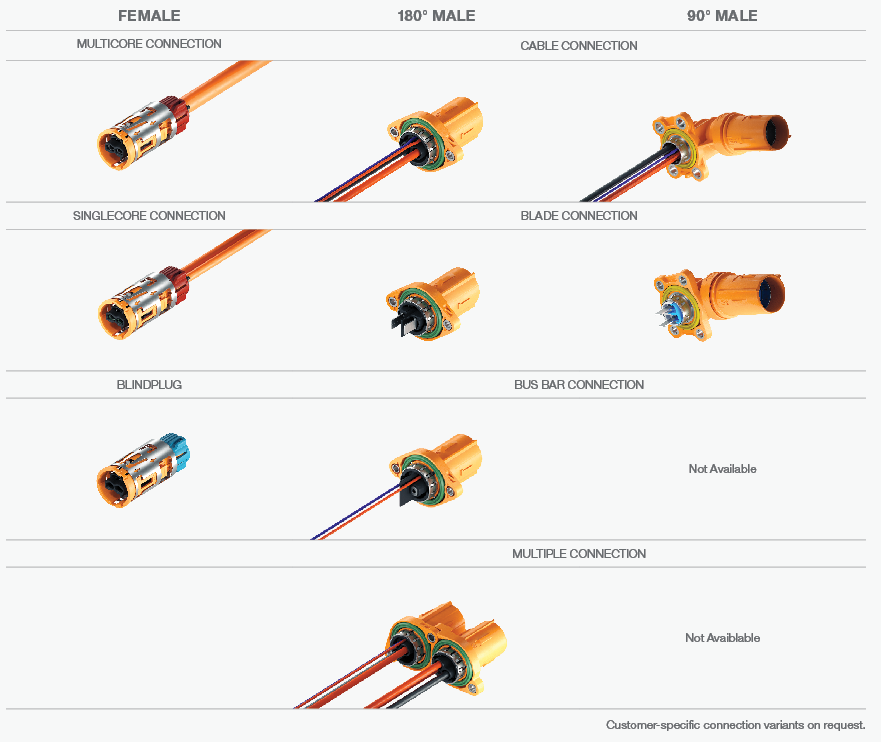 Product Flyer
High Voltage | Product Catalogue

pdf 7 MB

HPS40-2 | Product Flyer

pdf 766 KB

HPS40-2 PLUS | Product Flyer

pdf 566 KB
Drawings
HPS40-2 2+2 | System Drawing Female Connector MCC SCC (807-655-...00)

pdf 888 KB

HPS40-2 2+2 | System Drawing Female Connector Blind Plug (809-472-...00)

pdf 328 KB

HPS40-2 2+2 | System Drawing Female Connector NAFTA MCC SCC (809-886-...106)

pdf 871 KB

HPS40-2 2+2 | System Drawing Female Connector Blind Plug NAFTA (809-472-...106)

pdf 373 KB

HPS40-2 2+2 | System Drawing 180° Wire Male Connector (807-652-...00)

pdf 584 KB

HPS40-2 | System Drawing 180° Male Connector NAFTA (807-652-...106)

pdf 591 KB

HPS40-2 | System Drawing 180° Busbar Male Connector (809-226-...00)

pdf 614 KB

HPS40-2 2+2 | System Drawing 90° Wire Male Connector (809-366-...00)

pdf 321 KB

HPS40-2 2+2 | System Drawing 180° Wire Duplex Male Connector (809-547-...00)

pdf 765 KB

HPS40-2 2+2 | System Drawing 180° Blade Male Connector (809-855-...00)

pdf 618 KB

HPS40-2 2+2 | System Drawing 90° Wire Male Connector Shortened (810-200-...00)

pdf 718 KB

HPS40-2 2+2 | Single Part Drawing Female Connector MCC (807-655-...00)

pdf 3 MB

HPS40-2 2+2 | Single Part Drawing Female Connector NAFTA MCC (809-886-...106)

pdf 3 MB

HPS40-2 2+2 | Single Part Drawing Female Connector SCC (807-655-...00)

pdf 3 MB

HPS40-2 2+2 | Single Part Drawing Female Connector NAFTA SCC (809-886-...106)

pdf 3 MB
Product & Process Specifications
HPS40-2 | Handling Manual

pdf 603 KB

HPS40-2 | Handling Manual NAFTA

pdf 2 MB

HPS40-2 2+2 | Product Specification EPS 100188 Female Connector SCC (807-655-...00)

pdf 2 MB

HPS40-2 2+2 | Product Specification EPS 100128 Male Connector 180° blade (809-855-...00)

pdf 771 KB

HPS40-2 2+2 | Product Specification EPS 100132 Male Connector 180° 90° wire (807-652-...00) (809-366-...00)

pdf 757 KB

HPS40-2 2+2 | Product Specification EPS 100183 Male Connector (809-226-…00)

pdf 959 KB

HPS40-2 2+2 | Process Specification EVS 100096 Female Connector MCC (807-655-...00)

pdf 4 MB

HPS40-2 2+2 | Process Specification EVS-100101 Female Connector SCC (809-886-...106)

pdf 3 MB

HPS40-2 2+2 | Process Specification EVS 100111 Female Connector SCC (807-655-...00)

pdf 5 MB

HPS40-2 | Process Specification EVS 100137 Female Connector MCC PLUS

pdf 2 MB
Space Models
HPS40-2 2+2 | 3D Space Model Female Connector MCC SCC (807-655-...00)

stp 12 MB

HPS40-2 2+2 | 3D Space Model Female Connector NAFTA MCC SCC (809-886-...106)

stp 21 MB

HPS40-2 2+2 | 3D Space Model 180° Wire Male Connector (807-652-...00)

stp 4 MB

HPS40-2 2+2 | 3D Space Model 180° Male Connector NAFTA (807-652-...106)

stp 10 MB

HPS40-2 2+2 | 3D Space Model 180° Busbar Male Connector (809-226-...00)

stp 3 MB

HPS40-2 2+2 | 3D Space Model 90° Wire Male Connector A (809-366-101)

stp 9 MB

HPS40-2 2+2 | 3D Space Model 90° Wire Male Connector B (809-366-102)

stp 9 MB

HPS40-2 2+2 | 3D Space Model 90° Wire Male Connector C (809-366-103)

stp 9 MB

HPS40-2 2+2 | 3D Space Model 90° Wire Male Connector D (809-366-104)

stp 9 MB

HPS40-2 2+2 | 3D Space Model 180° Wire Duplex Male Connector (809-547-...00)

stp 6 MB

HPS40-2 2+2 | 3D Space Model 180° Blade Male Connector (809-855-...00)

stp 6 MB

HPS40-2 2+2 | 3D Space Model 90° Blade Male Connector (810-200-...00)

stp 6 MB

HPS40-2 2+2 | 3D Space Model 180° Wire Male Connector (810-200-...00)

stp 6 MB